Галерея одной работы, Москва. 27.02–15.03.2003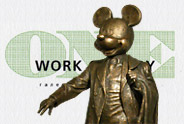 27 February at One Work Gallery in Moscow opened the exhibition of Alexander Kosolapov. An artist has introduced his new work, the statue of Mickey-Lenin. The bronze sculpture is standing on the marble column base; the total height of composition is 2 meter 40 cm.
As an artist said in the interview with Reuters, the statue is proposed to be erected in one of the Moscow squares. Among the best public places the author has suggested the Lubjanski square, Bolshoi Theater square and the Red Square.
27 февраля в "One Work Gallery" в Москве, была открыта выставка Александра Косолапова. Художник представил свою новую работу — статую Микки-Ленина. Это бронзовая скульптура, стоящая на мраморной колонне; высота композиции — 2 метра 40 см.
Как сказал художник в интервью Reuters, он предложил поставить эту статую на одной из площадей Москвы. Скульптура могла бы украсить Лубянскую площадь, площадь рядом с Большим Театром или Красную Площадь.